Treating Central
Nervous System
disorders
by targeting the cellular
damage response
mechanism​​s
Targeting key cellular response mechanisms to fight degenerative diseases.
Neurodegenerative diseases like Alzheimer's disease, Parkinson's disease, dementia with Lewy bodies and age-related macular degeneration, involve different regions of the central nervous system, yet they share key defects in cellular pathways.
By selectively modulating a central cellular damage response pathway, Cognition Therapeutics' drug candidates stop the toxic effects of age-related damage on brains cells that lead to neurodegeneration. By facilitating the normal function of this pathway, neurons in the brain and eye may function normally and avoid the effects of neurodegeneration.
Alzheimer's diseases and other neurodegenerative disorders are characterized by an age-related buildup of toxic proteins in the brain, which bind to receptors and disrupt key cellular processes. Cognition Therapeutics' lead candidate, CT1812, is designed to displace toxic protein oligomers on neurons and allow the damage response mechanisms to return the cell to normal function. Watch our mechanism of action video to learn more.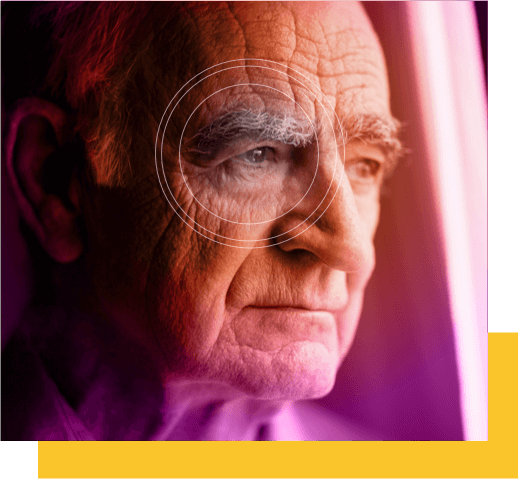 A number of eye diseases, including dry age-related macular degeneration (dry AMD) and geographic atrophy (GA), a more advanced form of the disease, are characterized by oxidative stress and an age-related buildup of toxic proteins that cause damage to retinal cells. CT1812 may remove these toxic proteins and restore downstream processes.
Other Neurological Disorders
The age-related buildup of stressors such as oligomeric forms of proteins (Aβ, α-synuclein, huntingtin), reactive oxygen species and inflammatory agents, drive many neurodegenerative diseases. We hypothesize that our candidates have disease-modifying effects on a number of neurodegenerative and neuro-ophthalmic conditions.
Cognition has identified several compounds that bind to a receptor that regulates key cellular processes that are impaired in several neurodegenerative diseases. Our lead candidate, CT1812, is currently being investigated in clinical trials for patients with Alzheimer's disease, dementia with Lewy bodies and geographic atrophy secondary to dry AMD.